Tennis Court Flooring Services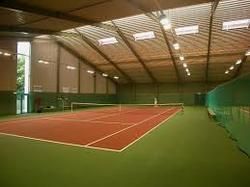 We offer numerous surfacing options for athletic courts from multi-layer tennis court surfaces, we can accommodate all types of play at competitive pricing. Whether you are a tournament director or a college coach, an architect or a homeowner, demand DecoTurf surface systems. If you want to play like a pro, make sure you're playing on a Deco surface. Contact us today for help selecting the Deco acrylic surfaces that are right for you and a qualified Applicator to build your court right.
Features and Benefits :
Twelve vibrant colors offer a whole range of possibilities for your court.
Our tennis surfaces are classified in three ITF Court Pace Rating categories.
Our acrylic surfaces are easy to clean and maintain.
DecoTurf's resilient cushion takes the pressure off of your body without changing the bounce of the game.
Certified as GREEN WISE environmentally preferred, by the independent Coatings Research Group, Inc.
Read More...
Looking for "
Tennis Court Flooring Services

" ?